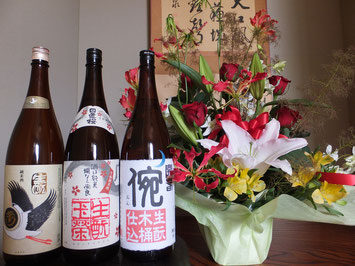 ◆乳酸 The lactic acid◆
日本酒造りで大切な「麹、酒母、もろみ」と言われ、米麹でお米のでんぷんを
ブドウ糖に変え、酵母でブドウ糖をアルコールと二酸化炭素が発生し、
お酒になります。
The brewer method of sake is said some quite important processes are
"Koji, Shubo and Moromi.
The Koji is the malted rice which can change to glucose
from starch of the steamed rice,then increasing the yeast in Shubo
( the beer brewer called it starter), then this yeast occursthe alcohol
and the carbon dioxide from glucose in Moromi (the beer brewer called it
the main mash).
Those processes are about the brewer method of sake.
では、なぜ乳酸が必要なのか。
So why does the lactic acid need in this process?
酵母が働きやすい環境は、お酒造りに不必要な雑菌も働きやすい環境で、
それを消滅させなければならず、その役割を担うのが乳酸です。
The environment in which the yeast is actively working is actively working
also unnecessary bacteria in this method, so the brewer must unnecessary bacteria.
It is the lactic acid which can extinguish.
It was increased in shubo.
これが無ければ途中で腐造(腐敗)してしまいます。
The sake will rot if there is no it in the middle of the brewer.
人工乳酸を酒母に添加する現在主流の「速醸酛」造り
There is the Sokujohmoto method which has made by adding the artificial lactic acid
to Shubo in the current mainstream.
乳酸菌を酒母に取り込み天然乳酸を増やす日本伝統の「生酛」造り、
There is the Kimoto method which has made by increasing the natural lactic acid
imported the lactic acid bacteria to shubo from the air with Japanese traditional method
continued from the era of Samurai about 400 years ago.
生酛造りから、酛すり(山卸)を省いたのが「山卸廃止酛」造り
There is the Yamaoroshi Haishimoto method (this work which is quite time
and consuming effort is to mashes the shubo by the Kai is what attached
to the tip of the bamboo wooden plank such as a brick)
which has made by omitted the Yamaoroshi work from the Kimoto method.
どうやら日本酒の味の秘訣は、乳酸にありそうです。
I think the secret of sake taste might be on the lactic acid.
一日の疲れた体に生酛造りの乳酸が五臓六腑に沁み渡り心地良く感じられます。
I will feel comfortable the natural lactic acid of Kimoto sake to my body
which was tired of the day by soaking it into my mind.
先人達も同じ事を感じていたのでしょうか。
The Samurai and Japanese forefathers might have felt the same thing
with me a long time ago.
盃が進んでしまいます。
I'd like to keep the sake drinking.
Think you for reading.