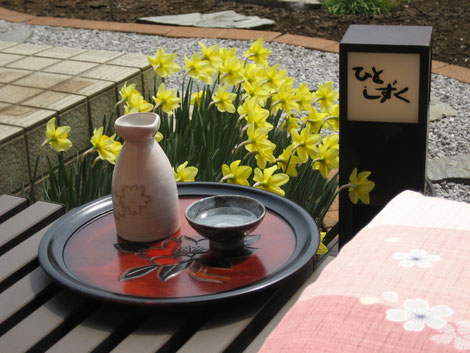 ★酛場(酒母室) The Moto room★
酛場とは、酒母造りの部屋の事で、「生酛」と「速醸酛」と別にするのが通常です。
The Moto room is also called the Shubo room which makes the Shubo
(the beer brewer called it starter).
The Moto room usually separates Ki Moto and Shokujo Moto.
太平洋戦争中、大変なコメ不足、人は戦地に送られ人不足
その中酒蔵は苦渋の選択により、明治43年に考案された人工乳酸を酒母に添加する
現在主流の「速醸酛」で酛立てをするようになり、蔵の内部の環境が、
ガラッと変わった時期なのです。
A most the Sake Brewery had to change to Shokujo Moto with agonizing  decision,
because it was during the World War II by serious shortage  of rice,
the lack of worker by sent to battlefield.
This brewer method made by adding the artificial lactic acid to Shubo from started in 1943
by invented this method in 1910.
It was the period when the inside environment of the sake brewery was drastically changing
by this method.
「生酛」造りは、「来年より始めます。」の様に簡単には移行できず、蔵内部の環境を
長年にわたって培って来た結果のお酒です。
It isn't easily begin again the Ki Moto method from changed to Shokujo Moto method,
because the Ki Moto sake brewer method is the result which have been cultivated 
the suitable environment of brewery inside over the years.
一度途絶えた「生酛」造りを復活させるために大変多くの努力と、先人達がしていた事を
手探りで模索しながら生酛造りをしていると蔵人は言っていました。
Brewers of sake said that we are still exploring  the brewer method of predecessors
which had interrupted  once for reviving  the Ki Moto brewer method
with a lot of time and effort.
日本酒は、風土と歴史に左右させる正に文化です。
The sake which is influenced by climate  and history is exactly a Japanese culture.
時代劇でお酒を酌み交わす場面をよく見かけます。
I often watch the scene of hobnob  together  in the samurai drama.
当時、酒器は主に平盃です。
The age of samurai, the cup of sake was Hirahai (the shallow  and small cup).
お猪口は、酔いが回り、宴の後半に使われたようです。
It seems the Ochoko (the deep and small cup) had used after drunken
in the second half of the party.
生酛は正に武家社会とともに歩んできました。
Of course, the sake of the Edo period was Ki Moto sake which had exactly
been coming along with samurai society.
まずは、お気に入りの日本酒を、武士の様に「粋」に平盃で飲んでみませんか、
First of all, what would you say to drink to your favorite sake by Hirahai with Iki
like Samurai?
新たな発見が。
There might be new discoveries.