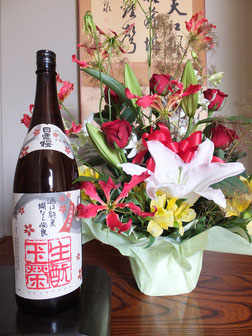 ★酒は百薬の長 The sake is the top of a most medicine.★
今流行っているのが、ヨーグルトやチーズなど腸内環境を整える発酵食品。
The fermented foods like the yogurt and cheeses which improve the intestinal environment are in vogue.
日本酒にも乳酸菌を取り入れ、乳酸を増やす日本伝統の酒造り「生酛」があります。
There is the sake of the traditional brewer method's Kimoto which increases
the natural lactic acid while getting the lactic acid bacteria from the air to shubo.
千葉県香取郡にある自然酒を造る蔵に、4,5年前お邪魔させて頂いた際、
酛場で初添え(醪の初めの作業)間近の酒母をヒシャクで頂きました。
When I had been to the sake brewer which is brewing the nature sake
located in Katori-gun Chiba-ken about 5 years ago, I was allowed to drink shubo
which is near to Moromi (the beer brewer called it main mash) process
with Hishyaku (Japanese scoop).
正に甘いヨーグルトです。
Its taste is exactly sweet yogurt.
杜氏さん曰く「数多くの乳酸、アミノ酸、ブドウ糖、蔵付酵母が生きています。
乳幼児からお年寄りの方までお飲み頂けます。」
The sake master brewer said "many natural lactic acids, the amino acid, glucose
and wild yeast are alive in shubo, so it can drink from children to the elderly".
一緒に行った方のお子様10歳ぐらいの男の子が、何回も酒母を小さなヒシャクで
すくって飲んでいる光景を今でも思い出します。
I still remember the scene that about 10 years old child of in the party was scooping up
for drinking this shubo many times by a small Hishyaku when I had been to there
with about 20 people by a bus.
それを見た杜氏さん曰く、「残ったら酒母に戻してね。」
The sake master brewer who saw it said "Could you please return that beverage
to shubo if you had remained it".
びっくりです。
I was so surprised at his words.
普通、蔵に行く朝は納豆を食べてはいけないと言われるぐらい蔵の中の菌に
悪影響を与えない様気を付けますが、しかしこの蔵は、少々の部外菌が入っても、
淘汰されるから関係ないそうです。
It is usually said thing we aren't eaten the Natto when we will visit to the sake brewer,
because it must be careful to be not bad influence by the Natto bacteria
to the internal environment of the sake brewer.
But, he said there is no impact this sake brewer because It will be culled it
if a little outsider bacteria broke in here by become strong environment.
私たちもこの様な、腸内環境になったらいいですね。
I hope we become in the intestinal environment like this.
NHK大河ドラマ「平清盛」私も大河ドラマの大ファンで、楽しく拝聴しております。
I who is a quite fan "Taira no Kiyomori" of NHK Taiga drama on TV program am enjoying
to watch it without missing.
この時代辺りに、「生酛」造りの原型になった「菩提酛」造りが、奈良県の正暦寺で
始まり、日本酒の発祥の地とされています。
The era setting of this drama is Heian period (the early 12th century).
The sake of this era was the Bodaimoto brewer method which is the basis of
the Kimoto brewer method.
The Bodaimoto brewer method began at the temple of Shoryakuji which has been
the birthplace of Japanese sake.                                          
平清盛もこの酒を酌み交わし、武士の世を創る情熱を燃やし、時代を築いたのでしょうね。
I guess Taira no Kiyomori had been having a passion to create the world of the samurai
with drinking this sake.
今宵は、日本酒を傾けてみませんか。
What would you say to drinking the sake tonight?Think you for reading.