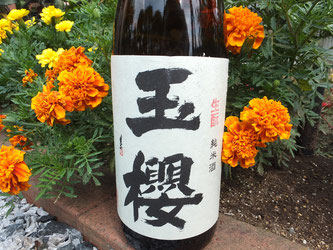 ★酵母 The yeast★
酵母は、お酒造りで、米麹によって蒸米のでんぷんをブドウ糖に変えたのち、
そのブドウ糖をアルコールと二酸化炭素に分ける役割をしています。
The yeast has a role to separate into the alcohol and the carbon dioxide
from the glucose after changed to it from the starch of steamed rice
by the Koji (malted) rice.
清酒酵母は、大きく分けて、蔵付酵母(野生酵母)、協会酵母、地方開発酵母、
民間企業や大学開発酵母などがあります。
Broadly speaking, there are some kinds of the yeast, such as the wild yeast,
the yeast of association, the yeast of local development
and the yeast of the private sector and universities.
協会酵母は、日本醸造協会から頒布している酵母で、協会○号とかK○号と、
お酒のラベルに記載され、協会酵母1号~5号までは、現在頒布していません。
現役で頒布されているのが6号、7号、9号、10号、11号、14号。
よく言われるのが、1桁酵母、2桁酵母と言いますが、番号が小さいほうから
以前から使われている年季の入った酵母で、数が大きくなると、
多様な味や香りが出る酵母になり、お酒の味の特徴は、使用する酵母によって
変わっていきます。
The Yeast of association can be bought from Nihon Jozo Kyoukai
(The Brewing Society of Japan).
It can be occasionally found on the label of the sake bottle,
as follow  "協会0号" or "K 0号" such as.
The yeast of association to No. 5 from No. 1 had been already stopped to
distribute decades ago.
The yeast of association which is No. 6, No. 7, No. 9, No. 10, No. 11,
and No. 14 is distributing to the sake brewery in the current.
It is often saying "the one digit yeast" and "the two digit yeast".
It is the old yeast which has been using since previous
from the small number in order.
The old yeast does not become gorgeous aroma and the taste,
but it has strong and stable fermentation power,
so this yeast has often been used the Kimoto sake brewing method.
It is new type yeast which becomes larger number in order.
This two digit yeast is inferior to the fermentation power
than the one digit yeast, but it will become variety aroma and taste.
そして、協会601号や1401号など、桁が多いのは、泡なし酵母、
二酸化炭素の気泡が出ません。
And, there is the three digit yeast and the four digit yeast,
such as "協会601号" and "K1401号".
Those yeast of the large digits are not emitted the bubbles of carbon dioxide.
地方開発酵母は、各都道府県で協会酵母から分離した
その土地や気候に合った酵母。
The yeast of Local development was fit for the land and climate
in each prefecture which was separated from the yeast of association.
最後に蔵付酵母、字のごとくどの酒蔵に昔から生息する天然酵母。
Finally, there is the yeast that has settled in the brewery
since a long time ago.
It is the wild yeast.
日本伝統の酒造り、「生酛造り」は、天然乳酸を増やす製法で、
ここに協会や蔵付酵母などを入れ、天然乳酸に耐え、
鍛えられた強い酵母と天然乳酸が、お酒を開封してからも、
硬い味が熟成し、かえって香りが際立ち酸味が柔らかくなり、
旨味が増します。
The Kimoto sake of Japanese traditional brewing method is the method
that increase the natural lactic acid in the Shubo process.
This method adds the yeast of association or the wild yeast into the Shubo.
The surviving strong yeast that withstand the natural lactic acid increases
moreover the taste from after the opened a bottle of sake,
as follows the sour taste becomes softer it,
and giving off the mature taste and flavor from the tight taste.
 お酒が恋しくなる季節になりました。
It became the winter season that just wanted to have the sake for us.
おでんに熱燗。お魚の煮付けにひと肌燗。
今年は、イタリアンやフレンチに日本酒生酛を、
意外です、よく合います。
Hot Kimoto sake with Oden or the simmered fish
I'd recommend French and Italian foods with the Kimoto sake.
This is surprising.
I think those go with this sake well.
Thank you for reading.