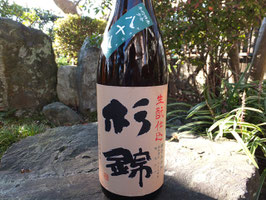 ★追い水 It adds the water into the sake.★
日本酒造りは、世界に類を見ない幾つのも発酵を同時に行う
「平行複発酵」で行はれ、それにより醸造酒で20℃を超える
アルコールを発生させることが出来ます。
The brewer method of sake can be to occur the alcohol over 20℃
by "the multiple parallel fermentation" that is the rare and complex method in the world.
原酒以外は、割水をして、通常15℃ぐらいにアルコールを
下げて 販売をしています。
The sake is usually selling lowered the alcohol to about 15 ℃ except the Genshu (the sake of the basic).
ある書物で、江戸時代のお店で、酒蔵から原酒を仕入れ、お店でお水を入れ、お燗してお客様にお出しすることで、
お店によって、薄かったり、濃かったり、美味しかったり、お燗するテクニックによって色々評判が違っていたようです。
I had found an article in book, it seems the restaurant of the Edo period had purchased the Genshu
from the brewery, and added the water to it, and sold it to the customer.
It seems the reputation was different each restaurant by the technique.
今、浸透しつつある割水燗、1合徳利にお猪口1杯水を入れ 後は、お酒を注ぐ、そして、お燗をして平盃で頂く、
邪道と聞こえてきそうですが、新たな発見があります。
しっかりとした造りをしたお酒は、水っぽくならず、かえってまろやかで飲みやすくなります。
Now, this is "the Warimizu Kan" that is gradually known the sake lovers.
It puts a Hirahai of water (about 20 ml) into the Tokkuri (180ml bottle), later pour up the sake into it, and we have this sake which warmed it.
The sake by the firm brewer method doesn't become the watery.
It rather becomes the mellow taste easy to drink.
生酛造りのお酒ならなおさらで、当時の武士の様に 平盃で粋に飲み、冬の夜を楽しみたいですね。
The Kimoto sake is better.
We just wanted to enjoy the sake by Hirahai with Iki in the winter night, like the samurai of that time.
写真にある「杉錦 八十八 生酛仕込 酵母無添加」
明治初期までの酒造りを再現、アルコール度数も13.5℃に落し、割水をしなくても軽快に飲める、
これからの日本酒のスタンダードを 示して頂いた様です。
This picture is "Sugi Nishiki Yasohachi (88) Kimoto Shikomi Koubo Mutenka" that is the Sugi Nishiki, the rice had polished the average of 12%, the Kimoto brewer method, and the yeast of association didn't use in the Shubo.
This sake has reproduced the kimoto sake brewer method of until the early Meiji period (about 150 years ago).
We will be able to drink trippingly this sake by lowered the alcohol to 13.5 ℃.
It seems this sake will be presenting standard of the near future.
Thank you for reading.